Avaleht
MARIA ADER "LOVE AND LIFE INTERESTED ME SO" 01.09.2016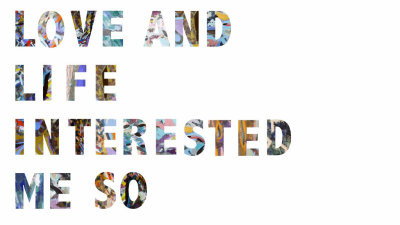 Näituse avamine on neljapäeval, 8. septembril kell 17.
Näitus on avatud 8. septembrist 8. oktoobrini. Maria Aderi teostes saab hävingust loominguline akt, kus plahvatuses vabaneb potentsiaal uue tegelikkuse sünniks. Näitus loob keskkonna, mis asub füüsilise reaalsuse ja kujutlusvõime piiril, kus muutub tajutavaks ruumi neljas mõõde – aeg. Valgusinstallatsioon pakub vaatajale võimaluse astuda igavese päikesetõusu sisse - hetkesse, kus kaader on peatunud, ning õnnelik lõpp ootab käesirutuse kaugusel. Kui tema eelnevad isiknäitused "Château One's Heart" (2013) ja "Kajatsoonis" (2015) olid omamoodi teelolek ning kohalolu, siis "Love And Life Interested Me So" on otsingute lõpp, väljamurdmine ja iseendaks saamine.
Näitusel põimuvad tuttavlikud elemendid uues kontekstis. Toimub kaose ja korra, tehisliku ja loodusliku võimatuna näiv kohtumine. Kõik see tekitab mulje apokalüptilisest maailmast, mille on taas algosadeks lõhkunud tundmatu jõud, kuid mille korratuses on aimata uute, meile tundmatute struktuuride jooni. Maria Aderi maailmalõpuesteetika on optimistlik – subjekt on küll kaduv, kuid teda ümbritsev keskkond pidevalt reorganiseeruv ja uuestisündiv.
Maria Ader (1984) on lõpetanud Tartu Ülikooli maaliosakonna 2008. aastal, täiendanud oma õpinguid Ida-Londoni Ülikoolis aastatel 2009-2010 ning kaitsnud magistrikraadi Eesti Kunstiakadeemia maaliosakonnas 2011. aastal. Tema loomingut iseloomustab elurõõm, improvisatsioon ning popilikud värvid. Maria Aderi suuremõõtmelised abstraktsed teosed ammutavad inspiratsiooni nii Lääne linnakeskkonnast (grafiti) kui Idamaade kehakunstist (irezumi tätoveeringud), moodustades uue sensoorse ruumi, kus traditsioonide ja nooruslikkuse kohtumine kannab endas ajatuse tunnetust.
Tänud: Artur Ader, Marje Ader, Johanna Ulfsak, Kris Lemsalu, Rain Tolk, Edith Karlson, Liisa Kivi, Janis Rizhovs, Jan Tomson.
Näitust toetab Eesti Kultuurkapital ja Valmiermuiza Brewery

Maria Aderi intervjuud ERR-ile saab vaadata siin.
 
Maria Ader
Love And Life Interested Me So
Vaal Gallery, Tallinn
8 September – 8 October 2016
In her artworks destruction becomes an act of creation where the potential of a new reality is released in an explosion. The exhibition creates an environment that is bordering physical reality and imagination, and is making the fourth spatial dimension – time – perceivable. The lighting installation provides audience with an opportunity to step into an eternal sunrise, into stillframe where a happy ending is a mere step away. Whereas her previous solo exhibitions Château One's Heart (2013) and In The Echo Zone (2015) have been certain journeying and a presence in tandem, this Love And Life Interested Me So is an end of search, breaking free and becoming oneself.
At this exhibition, familiar elements interweave in new contexts. Chaos meets order and artificial meets natural in their encompassing unlikelihood. All this creates a sense of an apocalyptical world, which has been deconstructed to its basic elements by an unknown force. Yet in this disorder, elements of new unknown structures make an appearance. End-of-the-world-aesthetics of the artist is optimistic: entitie smay be ephemeral, but their surrounding environment is constantly reorganising and renewing itself.
Maria Ader (b. 1984) graduated from the Department of Arts, University of Tartu in 2008. She has accomplished complementing studies at the East London College in 2009-2010 and completed MA in Painting at the Estonian Academy of Arts in 2011. Her works are characterised by joy of life, improvisation and pop tones. Ader´s large abstract works create a new sensory space where a meeting of traditions and juvenility embodies a sense of timelessness inspired by Western urban environments (graffiti) as well as Eastern body art (irezumi tattoos).
Special thanks: Artur Ader, Marje Ader, Johanna Ulfsak, Kris Lemsalu, Rain Tolk, Edith Karlson, Liisa Kivi, Janis Rizhovs, Jan Tomson, Ats Luik, Fred Kotkas.
The exhibition is supported by the Cultural Endowment of Estonia and Valmiermuiza Brewery.
Vaal galerii
+372 6810 871
galerii@vaal.ee